The competition for the job market is heating up and as the fight for top talent gets more intense, so has the focus on two of the most important words that can set businesses apart from the rest: Candidate experience.
Now that information – both positive and negative – about companies is more readily available, and that candidates are less restricted by geography, the increasingly competitive job market has meant that every aspect of the hiring process matters now more than ever.
Building an engaging candidate experience requires thinking about every step of the journey to ensure that the message is consistent across the board — and ultimately, that your company is one worth working for.
Related: 5 interview questions to ask to tell a great candidate from a good one
According to Michael Page's Talent Trends 2022: The Great X Report, there has been a wave of resignations in Indonesia as 43% of our respondents have only been at their current job for less than two years. Our research also found that 84% of respondents will be looking for new career prospects over the next six months.
With the pandemic forcing home life and work life into the same physical space, people now view their work and lives more holistically. Employees are re-evaluating what constitutes quality work, and they want it to be purposeful.
According to our findings, 68% of respondents in Indonesia are willing to accept a lower salary or forgo a pay rise or promotion for better work-life balance, overall well-being and happiness.
What does that have to do with the candidate's experience?
As the first-stage job seekers interact with your company, the candidate experience is highly crucial because it immediately influences their decision to apply to your company and subsequently, accept your job offer should they be selected. There are, however, still businesses that do not fully appreciate the sizeable ripple effect of the candidate experience.
An astonishing nine out of 10 respondents surveyed for our Talent Trends 2021 report recounted frustrating experiences during the interview stage, and more than half of them stated that these dissatisfactions would eventually affect their decision to accept a job offer.
When candidates have multiple job offers, they tend to go for the employer that made them feel welcomed during the interview experience, and many times, it is not necessarily the offer with the best remuneration.
Related: Why an effective onboarding process is more important than you think
What makes a great candidate experience?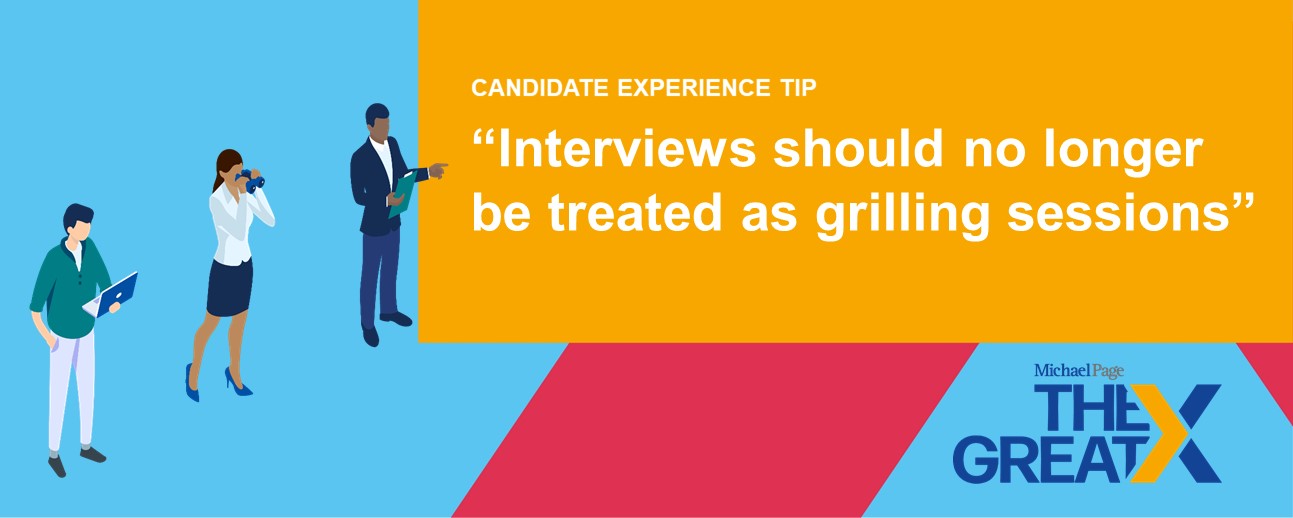 The application process: Creating a better candidate experience requires businesses to review their recruiting process from pre-application to onboarding. To start, make your candidate's job search process as fuss-free as possible.
This means ensuring that your company website's careers section and job descriptions are clear and straight to the point while keeping your online job application process seamless.
Making your careers page engaging and as easy to find as possible, while giving clear application instructions, are also practices you should implement.
The way hiring personnel communicates: Following that, the way the company's recruiters, HR personnel or hiring manager communicate with candidates for their job interview contributes to the candidate experience as well. This refers to the phone or video call to the candidates, and the way interview details are communicated.
The interview: The interview process can be tricky to navigate. The three most common frustrations faced by candidates are a lack of follow-up; a lack of transparency regarding job expectations and remuneration; and an unnecessarily long and tedious interview process.
Candidates don't enjoy feeling left in the dark, and a lack of communication is frustrating. Respecting the candidate's time with the right number of interviews and following up quickly absolutely impacts their overall experience.
According to Google's oversight of its own hiring process, four interviews are more than enough to make an informed hiring decision — all you have to do is ask the right questions. Those who make it through should be kept updated on the remaining steps of the interview, such as who will be carrying out the interview or what test assignments can be expected.
The candidate experience has never been more important, now that hiring in most parts of the world has moved online. In fact, 86% of organisations made the switch to virtual interviews during the COVID-19 pandemic, which has forced businesses to rethink how they can connect and provide information to candidates to the same extent as they would for physical, face-to-face interviews.
Giving candidates projections for the business, both during and after the pandemic, can also help establish trust and prevent blindsiding in the future. Making digital interviews convenient by utilising video technology, and closing the loop with regular check-ins and feedback, can eliminate any gaps in communication.
After the interview: The way a company follows up after a job interview significantly affects the candidate's experience too. Whether an organisation extends a job offer to the candidate or not, it is crucial for the company to provide clear and timely feedback. Candidates talk to each other, especially when they are from the same industry, and you want them to recommend your company to others, or even apply for another job in the future.
Rejected candidates who had a poor experience will also likely tell others, creating negative publicity that will affect your ability to attract potential talent in the future.
Glassdoor has also found that its users read at least six reviews before forming an opinion of a company. In addition, 70% of job seekers now look to reviews before making career decisions.
Research by Talent Board, a not-for-profit organisation focusing on candidate experience, revealed that as many as 35% of job candidates who had a bad experience with a company shares it via social media, as well as by writing reviews on Glassdoor and Indeed — so a candidate's experience will often travel quickly via word of mouth.
Being consistent from pre-application to interviews and finally, the moment when the candidate officially joins the team is indicative of how a company truly values its people. The onboarding process plays just as important a part in the candidate experience as the other stages of hiring.
A good candidate experience contributes to a strong talent brand
The candidate experience is important, and that's not only because 65% of candidates say a bad interview experience makes them lose interest in the job. It's also a major component of employer branding: how companies treat their employees can define their brand and reputation for years to come.
Interviews are innately awkward since they are essentially intimate conversations with a complete stranger. Because the candidate is in a vulnerable position, taking some time to make them feel more comfortable during the interview will make them want to tell other people about their experience.
Shift your communication with candidates to better align with their priorities. Interviews should no longer be treated as grilling sessions — they must evolve to become conversations that map out mutual interests, values and passions. Companies that can relate to a candidate's desired purpose will find it much easier to convince people to join them when competitors are outspending them.
A strong candidate experience is good for business
Revenue is another reason why the candidate experience is so crucial today. Businesses that fail to provide the same experience for their prospective candidates as they do for their customers are costing some companies millions in lost revenue.
Virgin Media, for example, receives 150,000 applications every year, but only hires 3,500 of them. Because of lapses during the interview process, 7,500 of these applicants in 2015 were sufficiently upset enough to cancel their contracts and sign up with Virgin Media's competitors instead, costing the company US$6 million in lost revenue each year. The company updated its hiring process to focus on creating a candidate experience so positive that it would even attract new customer opportunities from the people it engaged with, despite not landing the role.
Just as a company assesses the suitability of a candidate, job seekers are always evaluating whether the company is a good fit for them. By grasping the importance of a candidate's journey and designing the recruiting process around respect, trust and welfare, firms are sharpening their competitive edge in the burgeoning job market.

Discover the latest in our 2022 Talent Trends report, The Great X: This survey report covers what hiring professionals need to know to address talent attraction and retention for the year ahead. It also highlights a change of times in the hiring outlook as job candidates and employees now prioritise their well-being more than ever. Download our report to find out more.
Read more:
9 ways to manage a remote team effectively
How to be more confident at work according to Asia's female leaders
How qualitative performance evaluations give businesses a competitive edge
Are you Hiring?
If you are an employer and would like to discuss your hiring needs, fill in the form below and we will call you back.